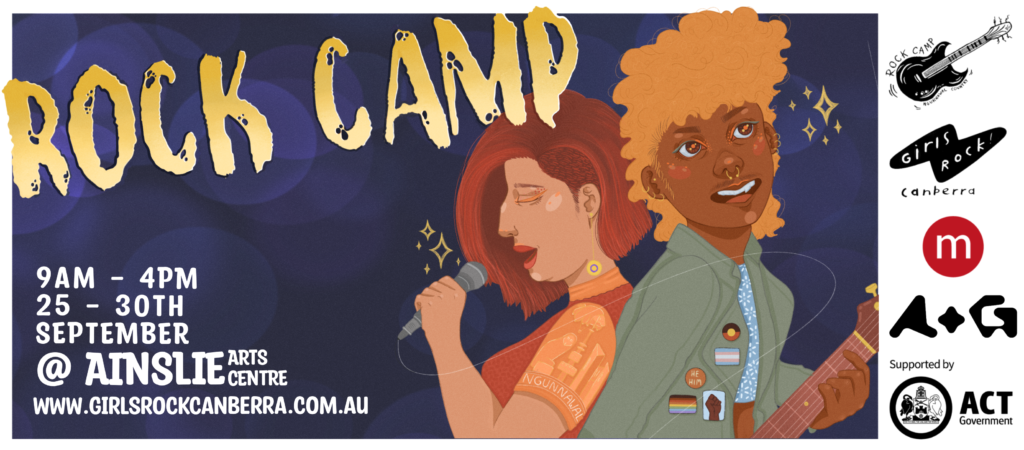 Ever wanted to learn an instrument, form a band and write a song? At Rock Camp, you'll form a band, learn an instrument (bass, guitar, vocals, drums or electronic music), watch live music performances from local and interstate acts, participate in creative workshops (like making zines and screen printing band t-shirts) and write an original song to be performed at the end of the week. Applications now open!
No music experience necessary!
Who: Rock Camp is for girls (trans and cis), trans-boys, gender diverse young people and intersex young people ages 10-17. We recognise that gender is self-identified, and that there is a variety of language people may use to best express their experience of gender.
When: Monday 25 September – Friday 29 September, 9am-4pm, with a showcase on Saturday 30 September, 1-4pm.
Where: Ainslie Arts Centre, 30 Elouera St, Braddon ACT
Cost: $500 for the week – includes instrument use, all workshops materials and daily morning and afternoon tea. Financial aid (including full and partial scholarships) is available – just ask us!
Applications close midnight Sunday 20th of August. We have limited places so we encourage you to apply early. We will have a waiting list if we reach capacity. Please note, an application does not guarantee a spot and we will confirm placements via email on Monday 21st of August.
Intern program: Are you a former camper aged 16-18 who wants to gain experience? Intern applications are also now open!
Important dates:
Camper + intern applications open: Monday 17th July
Camper + intern applications close: Monday 21st August
Please make sure to read the FAQs before applying, and please get in touch if you have any questions! Send us an email at girlsrockcanberra@gmail.com, or message us on facebook or instagram.
Rock Camp is supported by artsACT, Arts Capital Ltd, the Office of LGBTIQ+ Affairs, Megalo Print Studio, and Bank Australia.
Poster: Alistair Ott