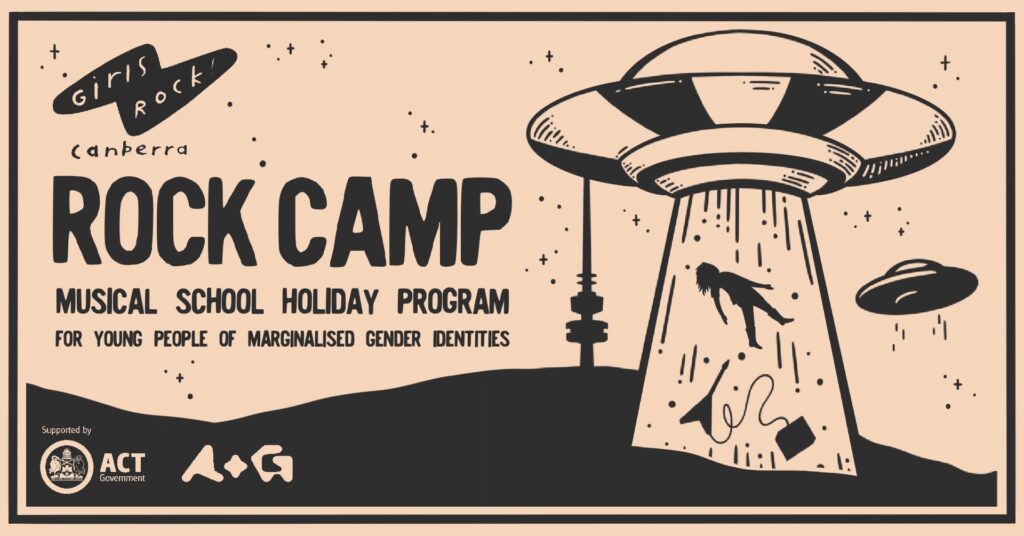 || Camper applications now open!!||
Ever wanted to learn an instrument, form a band and write a song? At Rock Camp, you'll form a band, learn an instrument (bass, guitar, vocals, drums or electronic music), watch live music performances from local acts, participate in creative workshops (like making zines and screen printing band t-shirts) and write an original song to be performed at the end of the week.
No music experience necessary!
Who: Young people of marginalised gender identities ages 10-17. This includes girls (trans and cis), gender-diverse people and trans-boys. We recognise that gender is self-identified, and that there is a variety of language people may use to best express their experience of gender.
When: Monday 26 September – Friday 30 September, 9am-4pm, with a showcase on Saturday 1 October, 1-3pm.
Where: Ainslie Arts Centre, 30 Elouera St, Braddon ACT
Cost: $500 for the week – includes instrument use, all workshops materials and daily morning and afternoon tea. Financial aid (including full and partial scholarships) is available – just ask us!
Applications open until midnight 22nd of August. We have limited places this year so we encourage you to apply early. We will have a waiting list if we reach capacity. Please note, an application does not guarantee a spot and we will confirm placements via email on Wednesday 31st of August.

Camper application forms can be found here!!!
If you want to be an Intern at Rock Camp, find out more here!
Important dates:
Camper + intern applications open: Wednesday 27th July
Camper + intern applications close: Monday 22nd August
Please make sure to read the Camper FAQs before applying, and please get in touch if you have any questions! Send us an email at girlsrockcanberra@gmail, or message us on facebook or instagram.
Girls Rock! Canberra is supported by artsACT and Ainslie and Gorman Arts Centres.
Poster: Hannah Minter