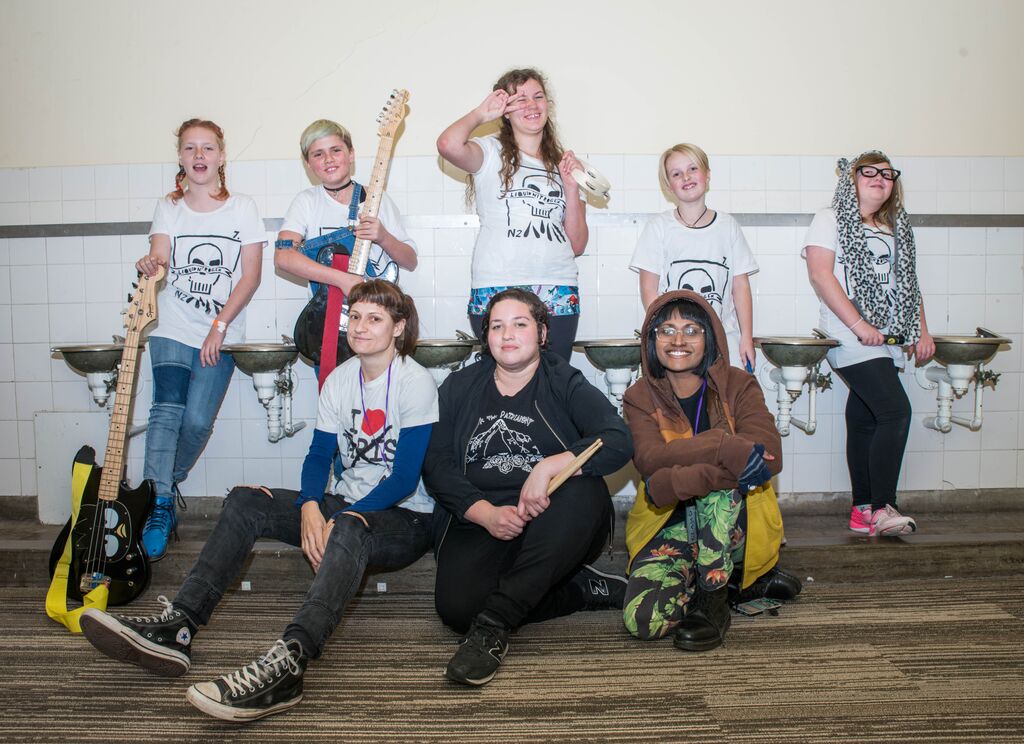 Mentor at Girls Rock! Canberra 2018
Applications for our 2018 mentors are now closed
Girls Rock! Canberra is a music and mentorship program for girls, trans and non-binary youth aged 10-17. We are seeking instrument instructors, 'band managers' and band coaches to facilitate our participants' experience throughout the week. 
Over the course of camp the participants will learn an instrument, form a band, take part in a range of creative and capacity building workshops and get to see a range of live performances by visiting artists. At the end of the week the bands perform for family and friends at the end-of-camp showcase. Our mentors are integral to providing a safe and dynamic environment for our campers and encouraging them to express their creativity while learning not to apologise for who they are.  
 This year's camp will take place July 16–20, Monday to Friday 9am-5pm, at Ainslie Arts Centre in Bradon. Our end of camp showcase takes place on Saturday 21 July. 
Every mentor must: 
be 18 years or older

 

hold a current Working With Vulnerable Peoples Card or be willing to acquire one before camp
be interviewed by GR!C staff (either in person or via Skype)

 

and attend a mandatory orientation day, Sunday 15 July 1pm-4pm at Ainslie Arts Centre.

 
All mentor positions are paid a stipend. Gender diverse applicants*, and applicants from culturally and linguistically diverse backgrounds are encouraged. Mentor places are limited and highly sought-after, so first priority will be given to applicants from the Canberra region. Mentors need to be over 18 years of age, but internship openings for people under 18 will be announced soon. 
* positions are open to individuals who self-identify as female, trans (regardless of identity), or gender non-conforming.  
Position descriptions:
Band Coach
Band coaches are assigned to one band for the duration of the week. Working with a Band Manager, you will monitor each band practice and help the band members prepare for their live performance at the end of the week. As band coach, you will guide campers in all aspects of working in a band including setting up, tuning, songwriting, stage presence learning to play as a group and learning to listen to one another. 
Necessary experience: experience playing in bands and performing live
Desired experience/qualifications: registered youth worker, teacher/education qualifications
Time commitment: Orientation Sunday 15 July; Monday 16 July 9am-5.30pm, Tue-Fri 1pm-5.30pm, Saturday showcase 21 July 12-4pm 
Band Manager 
Band Managers provide support, advice and endless encouragement for their band throughout the week, while promoting healthy band dynamics. You'll accompany them as attend workshops, help them come up with a band name and logo, lead break time activities, and more. No musical experience is required but working with youth is a plus.
Necessary experience: working with youth
Desired experience/qualifications: registered youth worker, teacher/education qualifications
Time commitment: Orientation Sunday 15 July; Monday 16 July 9am-5.30pm, Tue-Fri 1pm-5.30pm, Saturday showcase 21 July 12-4pm 
Instrument Instructor
As an Instrument Instructor, you will have basic to advanced knowledge in the instrument you are teaching (guitar, bass, drums, vocals or electronic), are flexible and able to cater to different skill levels. Some participants have been taking lessons for years, some may have never picked up their chosen instrument before this week! You will work with another Instrument Instructor, as well as the Program Coordinator, to produce a class plan for the week (we can help you with this!). This does not need to be overly formal – you're just teaching enough for each participant to be able to write a song by the end of the week. 

Necessary experience: teaching music
Desired experience/qualifications: teaching music to youth, working with youth
Time commitment: Orientation Sunday 15 July; Monday 9am-12pm, Tue-Fri 9am-12pm  
Image: Mentors Fiona, Jana and Claudine (sitting) with 2017 GR!C Winter band Liquid Nitrogen (standing). Photographed by Monica Styles